More than 11,000 Health New Zealand employees may have secretly dodged Covid vaccination, despite nationwide mandates and vaccine passports for everyone else.
The news comes from an Official Information Act (OIA) request asking how many exemptions had been granted within the national public health service, Te Whatu Ora.
From the response, dated 02 August 2023,
"From 13 November 2021 to 26 September 2022, a total of 478 applications for Significant Service Disruption exemption (SSD) were received. 103 applications were granted, covering approximately 11,005 workers."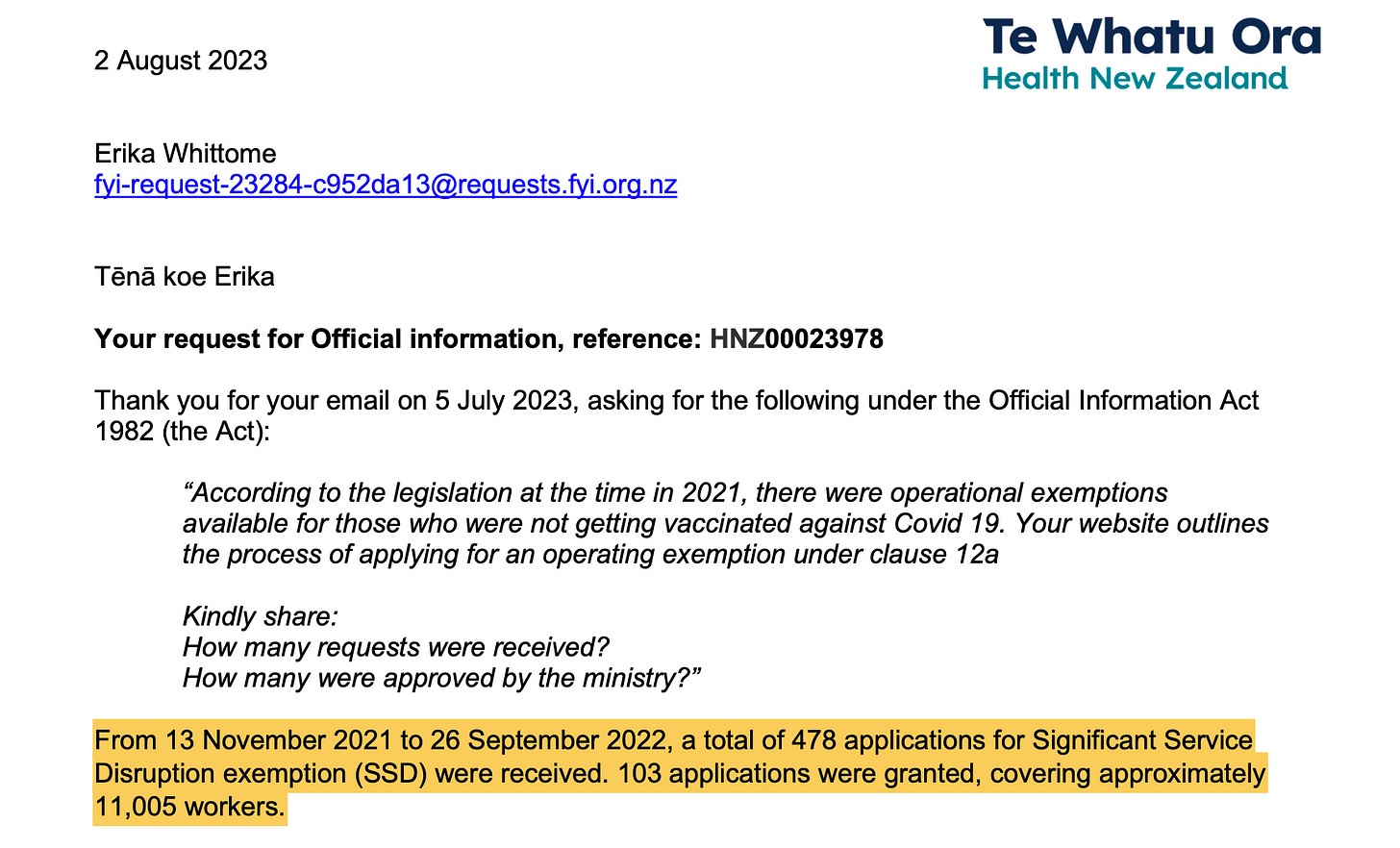 The OIA request is one of 71 requests lodged to date by Erika Whittome of the Number 8 Workers' Union, which has been active in challenging Covid restrictions and mandates.
The social media and blogosphere are in a furore, as New Zealanders voice anger at the secrecy and double standards within the Ministry of Health.
The exemptions were granted to Te Whatu Ora workers by the Ministry under a Significant Service Disruption (SSD) provision that allowed workers who couldn't be easily replaced by another person to continue working without being vaccinated.
Accordingly, senior officials and high-level specialists may have been more likely to secure exemptions, leading to the public perception that 'elite' workers were protected from mandates, while 'replaceable' workers were refused exemptions.
While approximately 11,005 workers were exempted from mandated Covid vaccination under the SSD provision, it is unclear how many exercised the privilege, and how many went ahead with vaccination regardless.
What is clear is that more than 1,300 unvaccinated healthcare workers were stood down out of a total workforce of approximately 80,000 when Covid vaccine mandates came into effect in November 2021.
Dr. Emanuel Garcia wrote on his Substack that he personally knows multiple healthcare workers who had been fired from their positions for not taking the required number of Covid vaccine doses, despite the sector experiencing a worker shortage.
"With this new information, I now wonder how many of the 'chosen' 11,000 were doctors, and if so, why these doctors didn't raise their voices against the program of coercive inoculation? I wonder who decided that these 11,000 workers could get off jab-free while my friends and many others suffered the consequences of their conscientious choice?"
Covid commentator Guy Hatchard reports that sources from within Te Whatu Ora advised that staff who received exemptions were "restrained by gag orders… it was a secretive process that the Ministry of Health was anxious to hide from the public."
Social media is littered with anecdotes of New Zealanders denied Covid vaccine exemptions despite severe and even life-threatening reactions to prior doses.
Chances are that some of the healthcare workers who were exempted from Covid vaccination administered the vaccines to coerced New Zealanders.
By the end of 2021, New Zealand was touted as an international success story, with over 90 percent of the population aged 12 and over having been double-vaccinated. By March 2022, New Zealand boasted 95 percent vaccination coverage, with 73 percent of this cohort having also received a booster.
Former Prime Minister, Jacinda 'single source of truth' Ardern, reportedly said that her government's coercive vaccine mandates were "undoubtedly" one of the reasons that New Zealand attained such high vaccination rates.
As well as workplace mandates, Ardern imposed proof of vaccination requirements on a broad range of social activities. At a press conference in October 2021, Ardern said,
"If you want summer, if you want to go to bars and restaurants, get vaccinated. If you want to get a haircut, get vaccinated. If you want to go to a concert or a festival, get vaccinated, if you want to go to a gym or a sports event, get vaccinated. If you are not vaccinated, there will be everyday things you will miss out on."
Ardern also famously agreed, smiling, that her government had created a two-tiered society with different rights, based on vaccination status.
However, Ardern's successor, Chris Hipkins, recently denied that Covid vaccination had been compulsory in New Zealand, confirming that we are now at the 'No one made you take it, it was your choice' stage of the pandemic.
On 3 September this year, Hipkins told reporters,
"In terms of the vaccine mandates, I acknowledge it was a difficult time for people, but they ultimately made their own choices. There was no compulsory vaccination, people made their own choices."
New Zealanders are now left to contemplate that not only were they coerced into vaccination and then gaslit over it, but that the Health Ministry overseeing the whole shebang was secretly letting its own key workers off the hook.
Republished from the author's Substack